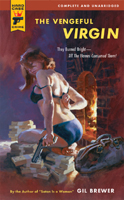 So is anybody else digging the
Hard Case Crime
series? This is a new-ish crime fiction imprint that puts out a book every month; you can arrange to have a standing order charged to your credit card, and you'll just get the new book in the mail. The books look and feel fantastic--mass market paperbacks, just the right size, the title and author printed in bold sans serif type in yellow and black on a white spine, and an outrageously lurid fifties-retro painting on the cover.
Some of the books are new; most are reissues. There are a few surprises--a Stephen King novella, a reprint of
Madison Smartt Bell
's
Straight Cut
, which is hardly what you'd call hard-boiled. And honestly, some of the books are kind of bad. It hardly matters, though. There are enough gems to keep you excited for the next one to show up, and the entire operation feels like a throwback to a bygone era--not just the books themselves, but the idea of getting them in the mail, direct from the publisher.
If you'd like to read a book written by a woman, by the way, forget it. So far there are precisely zero. If, however, you like the idea of getting shot in the head by one, especially a totally hot one in her underwear, then you're in business.
On a related note, there's a part of me that wishes everything were a mass market paperback. I'd happily pay a little extra for nice, acid-free paper, but I don't enjoy paying for hard covers and rough-cut pages--and I especially don't enjoy thinking of all the people who don't bother buying my own stuff when it comes out because it costs twenty-five dollars. I wish every decent book cost ten bucks. I wish every decent book could fit in your jeans pocket.
End of rant.